FM4 Frequency Festival August 18-20, 2022-St.Pölten,Austria
Hey Guys!
Here is the happy and amazing news for the summer!
Yes… August is the best time to visit Austria!
The reason one and only one … is FM4 Frequency Festival 2022, the largest and most famous multi-genre music festival in Austria and one of the biggest festival in Europe!
FM4 Frequency Festival is one of our lovely festival in Europe, with an average attenDANCE of about 140.000 folks, the FM4 Frequency Festival in St. Pölten is a big party of music… for all the people!
FM4 Frequency Festival was established in 2001. The first year it took place as a rather small event featuring six artists on each of the two days of the festival.
Over the years, the festival became one of the biggest European festivals, a big music party, with the biggest names from the international music scene.
FM4 Frequency Festival features about 60 bands every year.
Its past lineups included many of the big name… Nine Inch Nails, Die Ärzte, R.E.M., The Killers, Die Fantastischen Vier, Kasabian, Radiohead, Peter Fox, The Prodigy, Billy Talent, Thirty Seconds to Mars, LCD Soundsystem, Foo Fighters, Seed, Rise Against, The Chemical Brothers, Korn, Placebo, The Cure, Blink-182,Hozier, Gorillaz, Bastille, Dua Lipa, Twenty one Pilots and more!
We love music festivals as much as you do in all around the world, for this Summer exept the others festival we would like to see you specially in Austria- St. Pölten Thursday 18 August > Saturday 20 August 2022, with 62 Artist of the Music Scene…
BILDERBUSH- RAF CAMORA- ANNE MARIE- LEWIS CAPALDI-G EAZY- BONEZ MC- GLASS ANIMALS- NOVA TWINS- ALISON WONDERLAND- CYPRESS HILL- JAMES ARTHUR- LISA PAC,very special guest GAYLE and more!
SPECIAL NOTICE…
For more and all the new information's and everything related about Festival…  Tickets-Line up-Info & Faq – Venue- Green… please look at the link of the festival  https://www.frequency.at/
INTERVIEW WITH … Mr. HARRY JENNER the Festival Pr. Manager  
Athenscalling.gr:… After 2 years ago again together, with the lovely party of music…FM4 Frequency Festival and with you! My dear friend Harry welcome in Athenscalling.gr webzine of culture. 
HARRY JENNER: hallo Greece, good to be back and get the party started.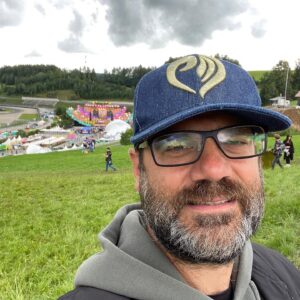 Athenscalling.gr: Where are you now? And how you had passed all these crazy of Covid-19 Pandemic Days? 
HARRY JENNER: I'm currently at our Novarock festival which is sold out also. We had quite some work with moving all our headliner shows in Vienna and also we did preparations for frequency 2021, which unfortunately was the called of by the city 4 weeks before the festival.
Athenscalling.gr: I think that is… 20 years from 2001 till 2022, about FM4 Frequency Festival, how do you feel?
HARRY JENNER: well actually 2001 till now which leads us into the 22nd year… and i feel great full the we and the great audience keeps my festival bany very mich alive !
Athenscalling.gr: What was your best and the bad time … during the festival years?
HARRY JENNER: well then bad times are like for example on this Novarock weekend when you have long and heavy rain… the best part is when you favourite act is live
on stage and the crowd is happy !
Athenscalling.gr: My opinion is that for this summer…FM4 Frequency Festival 2022 I think that has a new a fresh face about line up, with new artists, different about the past. Tell us about it.
HARRY JENNER: in Austria the audience change quite a bit, away from indie alternativ more towards urban style like hip hop, electronic, rock, pop
Athenscalling.gr: And about FREQUENCY FESTIVAL fans… How they welcomed this year the festival and what messages do you receive from the fans?
HARRY JENNER: well you can imagine that they can't wait to be back at the traiser (the river at our camping site) and celebrate together the biggest party in Austria.
Athenscalling.gr: O.k about the fans messages… and about your message to the fans?
HARRY JENNER: get ready for three days of the best festival in this summer! All people are welcome at frequency festival !
Athenscalling.gr: Now playing my favorite game, please with the first letter of the Festival, fill in the blanks, with any words you like…
(F)…,( R )…,(E)…(Q)…,(U)…,(E)…,(N)…,( C )…,(Y)… 
HARRY JENNER:
( F )estival,
( R )ock n roll,
( E )quality,
( Q )uality,
( U )kraine,
( E ) asy,
( N )ihhtpark,
 ( C )U,
 ( Y )essss!
Athenscalling.gr: Have you something more to tell us about the festival days to the visitors of the festival ?
HARRY JENNER: no not really as i guess after two years of waiting they are as ready as possible.
Athenscalling.gr: And before the end of our chatting, my friend give your message to the people, all around of the world… 
HARRY JENNER: make music not war!
Athenscalling.gr: Thank you Harry… all the best to you and to your team!
HARRY JENNER: thank you for taking time to speak about frequency festival