TARWA N-TINIRI…Interview! Band, Pure Treasure!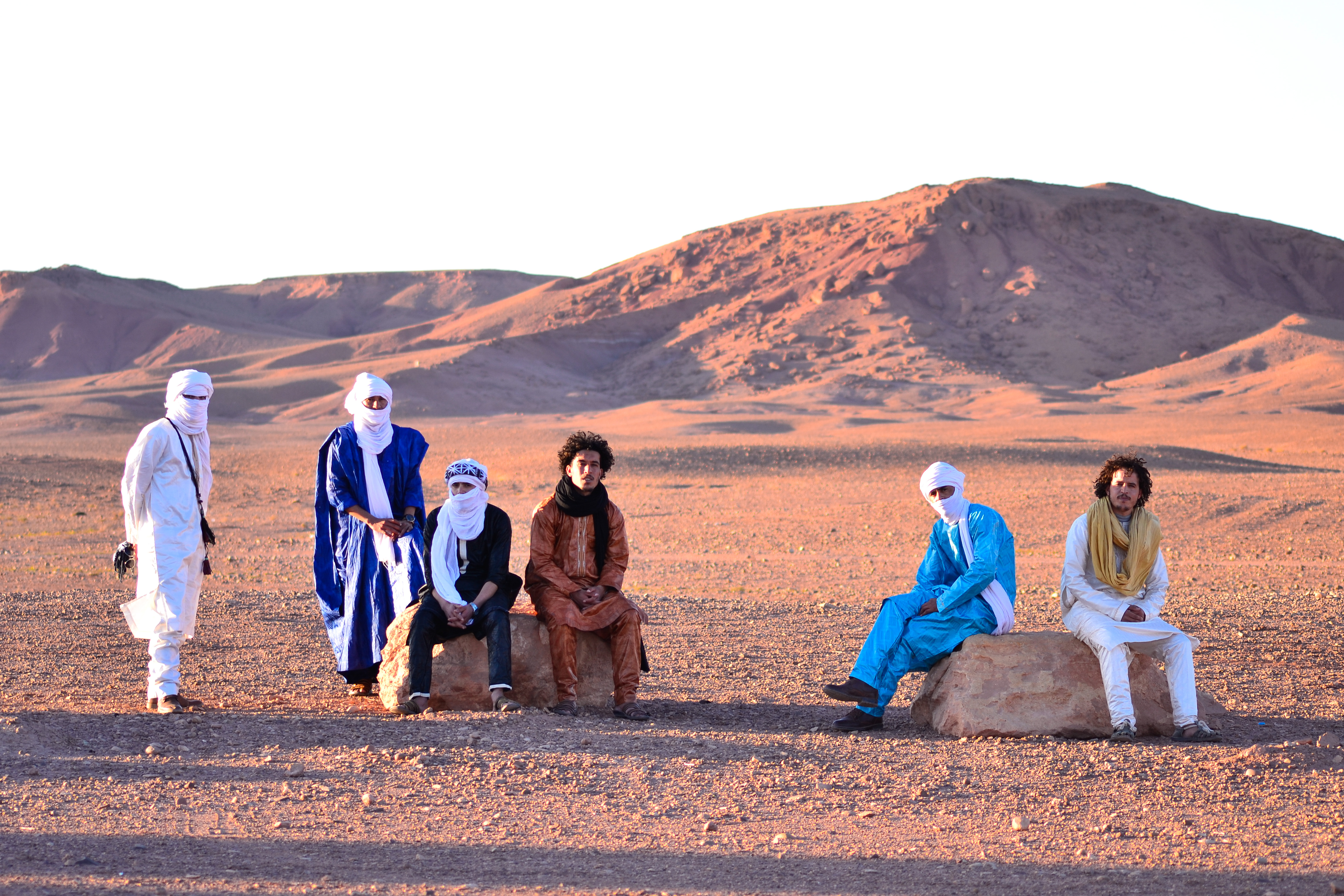 TARWA N-TINIRI
is a band of 6 musicians and I believe that is a band … Pure Treasure! Their Amazing
Desert Blues Sound, have given the band from ­Ouarzazate, Morocco increasing fans all over the world… of course and in Greece!
By the way The Desert Blues genre has a growing ­music interest across the globe.
The band started their musical journey in 2012, first with a homemade guitar called Lohtar. Ever since they have participated in festivals throughout Morocco and shared their passion and love for making and performing music together.
They debuted internationally in festival Transform in Norway during 2018 and later in France during 2019. Started to write their songs, fueled by a mutual interest for Desert Blues. They worked hard on their debut album, and knew the time was right to bring back the music and culture an international audience.
Tarwa N-Tiniri released their debut album titled "Azizdeg". Simon Walls and Greg Bonnier two Canadian guys travelled to Morocco and Ouarzazate and rigged into their garage and recorded the album. Some months later the album was released by ΄΄Atty Records΄΄, Canada.
"Azizdeg" is the bright debut album of the band, with 8 songs, some of the songs is written by an Amazigh poet. The lyrics are often about the social conditions of the nomadic people, but also love, friendship and peace.
Quarantine days, we are in the office ΄΄surfing΄΄ on the Internet when we suddenly discovered a wonderful band from Morocco called, TARWA N-TINIRI, I believe that it is a pure treasure band! Then, evolve on the internet where we had a lot to say with the member of TARWA N-TINIRI… Mohamed El-Mobaraky!
Mohamed El-Mobaraky he is one of the founders of the Tarwa N-Tiniri band from Ouarzazate, Morocco. Right now he has the management of the band, also he is the president of ΄THE ASSOCIATION TARWA N-TINIRI΄.
Athenscalling.gr: Hi Mohamed, nice to meet you and I must say to you that I feel a great respect for TARWA N-TINIRI band… Welcome in Athenscalling.gr my friend.
Mohamed El-Mobaraky (TARWA N-TINIRI):Azul/Hi Athenscalling nice to meet you too we are very honored to hear that our Saharian amazigh music arrive to ear of some people in Greece.
Athenscalling.gr: Where are you now and how pass during the Pandemic days and how was it for your group … without live music?
Mohamed El-Mobaraky (TARWA N-TINIRI): Right now we are in Merzouga desert playing and making some new music, it was hard time during the pandemic coz we lost all concerts in national and also international tours, it was hard without live music but at least we did tow virtual concert.
Athenscalling.gr: Let's talk now about album ΄΄ Azizdeg΄΄, why choose n this title?
Mohamed El-Mobaraky (TARWA N-TINIRI): Azizdeg- this word have good meaning to explain all the 8 song meaning, its mean to clean your feeling and seeing with the eye of the heart to uncover the truth.
Athenscalling.gr: 8 bright songs and your best from the album?
Mohamed El-Mobaraky (TARWA N-TINIRI): E..mm… this hard question to ask for me coz we work allot in all of the songs each song have my feeling inside, but I always love to listen to – Ansuf and Azemz.
Athenscalling.gr: And about the name of the group, who was the Godfather?
Mohamed El-Mobaraky (TARWA N-TINIRI):The Name of the band choosing by the members of the band to express about that the members are musicians belong to the desert and we take it as the generation of the desert.
Athenscalling.gr: Tell us about your music genre…
Mohamed El-Mobaraky (TARWA N-TINIRI): The band choose to lean into a wider array of sounds and styles, to convey a wider variety of emotions and topics, by choosing more traditional Amazigh rhythms and instruments in our music.
Athenscalling.gr: And about the lyrics of the 8 songs?
Mohamed El-Mobaraky (TARWA N-TINIRI): About lyrics of the album songs we have – Tiwizi (solidarity), Assid (Lighting), Azemz ( Time) written by the lead of the band Hamid Ait Ahmed.
And we have Tit N Tit (the heart of truth), Anamur (Nationalist), Tazdgi N wawal (feel Alive) written by a great amazigh poet Omar Derouich.And the Song Ansuf (Welcom) written by me.
And last one Tahichket N Allallu( the tree of freedom) I write it and translated to Tamachaq by Ibrahim El Harami And Bikima ag ibnou processing the words.
Athenscalling.gr: Two years from your album ΄΄ Azizdeg΄΄, do you have some news perhaps about a new album?
Mohamed El-Mobaraky (TARWA N-TINIRI): Yes the pandemic give us time to write and to create new songs, now we are giving more time to practice on new melodys before the recording.
Athenscalling.gr: Tell us now about the members of your band?
Mohamed El-Mobaraky (TARWA N-TINIRI): In the band we are six musicians me I play the calebasse and Hamid ait Ahmed is the lead vocal and play electric and acoustic guitar, Mustapha ait ba is the rhythmic en electric guitar, El Mokhtar ait Nacer play the banjo and brother of Smail Ait nacer the bass guitar player and brother to Youssef ait Nacer the djembist and guitar player.
Athenscalling.gr: And now 3 personal questions …(A)Do you remember your first teacher in music? (B) Your first album that you bought? (C) Your favorite band?
Mohamed El-Mobaraky (TARWA N-TINIRI): for me as all the band members we didn't had the chance to learn the music in shcool or to have a teacher, coz we do not have like kind of this school in the desert, so we had to learn about the music by our self by listen to the music and watching music videos, my first album that I had is the album of Tassili of my favorite band Tinariwen, I didn't by it was gift from friend.
Athenscalling.gr: A… Just remember it… Congratulations for your web page design. It is very artistic …
Mohamed El-Mobaraky (TARWA N-TINIRI): Thank you so much the web page designed by Britt Hanssen a fantastic manager from Norway that we had the chance to work with it for 4 years.
Athenscalling.gr: Also Congratulations about΄THE ASSOCIATION TARWA N-TINIRI΄. Please tell us about it?
Mohamed El-Mobaraky (TARWA N-TINIRI): The association Of Tarwa N-Tiniri we create it in 2018 to help the nomadic families that live in the desert and mountains and also to develop the music in our region, the association recently announce for start of the first studio in the desert of Merzouga with name of – Sahara Records – to develop the music and to help the beginner musicians that don't have the possibility to offer studio to record their music, and also a chance to keep the old music traditional alive in the region, the project we just start it and hope people can help us to have more equipments for the studio.
Athenscalling.gr: My friend Mohamed before the end of our chatting, I will ask you do you know something about my country Greece.
Mohamed El-Mobaraky (TARWA N-TINIRI): To be honest with you some days ago I had chance to meet first person from Greece her name Lydia she live now in Berlin even it was for shorte time but it was nice to hear from her about beautiful country like Greece now I have at least one friend from Greece hope that all people from Greece are very nice like her, and hope one day to have chance for concert there.
Athenscalling.gr: Just now give your message please to the people, over around the world…
Mohamed El-Mobaraky (TARWA N-TINIRI): I wanted to thank you for the first for giving me this chance to be your guest in this amazing magazine, and I like to thank everyone who listen and support our band from all over the world, and also I wanted to say stay in touch with our social platforms soon we back on tour and we will be on live music on stage aging, and big thanks to our people and friends in Merzouga desert for been our big support tell now only to keep us making music.
Athenscalling.gr: Thank you my friend all the best to you, to your band and to all that you love… thank you.
Mohamed El-Mobaraky (TARWA N-TINIRI):Thank you for the amazing interview and hope we see you soon and you are welcome to Merzouga anytime.