FIVE WAYS TO NOWHERE … ITALIAN HARD ROCK BAND!
FIVE WAYS TO NOWHERE is the full of energy Hard Rock / Rock N' Roll band from Italy!
When you want to hear loud guitars, aggressive and groovy riffs, it is the best time for the live concert of the band named… FIVE WAYS TO NOWHERE. Every live of the band since 2015 until today, it is always the real name of the rock… and really it is impossible to forget it.
Since founding, they give concert in Italy, Switzerland, France, Belgium, The Netherlands, and Czech Republic.
The band shared the stage with DAVID ELLEFSON from MEGADETH, with THUNDERMOTHER and the famous Austrian TURBOBIER… Marco Pogo guitarist band!
Also they hit the stages of major festivals like Hell fest in France Masters of Rock in Czech Republic and the Swiss Rock Cruise in Switzerland.
FIVE WAYS TO NOWHERE, releases in the year 2020 the amazing… full of energy album ΄΄ Bite Hard΄΄ and 3 EPs in 2017 and 2018.
The members of the band are …
Charlotte Esse: Vocals
Matteo "TEO" Lassandro: Rhythm Guitar
Joey Tassello: Lead Guitar
Davide "DAVY" Rocco: Bass
Fabio Brunetti: Drums
CHATTING WITH … Matteo "TEO" Lassandro!
October morning in Athens and I was alone in my office listening from my stereo ΄΄ Slowmotional΄΄ song by FIVE WAYS TO NOWHERE, the Italian Hard Rock / Rock N' Roll band, that song was full of energy… for my wakeup call!
Yes that song by the band from Italy was the best thing for my morning wake-up call!
Listening to that song I thought now was the chance to chat on the internet with Matteo "TEO" Lassandro the guitarist of FIVE WAYS TO NOWHERE!
Athenscalling.gr: Good Morning TEO! I am glad chatting you, really I like the sound of your band… Welcome in Athenscalling.gr –the webzine of culture!
Matteo "TEO" Lassandro ( Five Ways to Nowhere ): I'm glad that you like our band and I hope your readers like us as well .
Athenscalling.gr: Where are you now?
Matteo "TEO" Lassandro (Five Ways to Nowhere): In this moment I'm in Salzburg (Austria). Me and Charlotte (our singer) also have a small clothing company called PSYCHO-STORE https://www.psycho-store.com we sell alternative clothing at the major events and festivals all over Europe. This weekend we're working at the Wildstyle & Tattoo Messe, an amazing tattoo convention here in Salzburg.
Athenscalling.gr: Five Ways to Nowhere… who was the Godfather of the name?
Matteo "TEO" Lassandro (Five Ways to Nowhere): Oh man…it was a nightmare! We discussed a lot in order to find the name we all liked. I remember probably 100 names we came up with in January/February 2015: we still have the same WhatsApp band chat and I remember that we wrote all proposals there. We wanted a name that could describe what we wanted to be and to do. So, the word FIVE was chosen because we're five people. WAYS TO NOWHERE wants to describe a kind of a trip we're doing together: we all want the same, but we don't know how we'll get it. It's a continuous journey in a Rock N Roll world…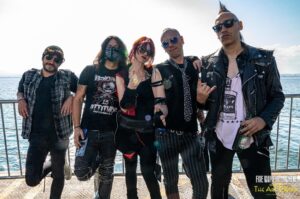 Athenscalling.gr: O.k.! Five Ways to Nowhere is a band from Italy. It is easy or difficult, for a band from Italy, to win fans all over the world and especially in Europe?
Matteo "TEO" Lassandro (Five Ways to Nowhere): You know, Italy is not exactly "the country of Rock N Roll", but there are a lot of very good rock bands anyway, especially in the underground scene.
Conquer new fans is not easy at all, but fortunately our fans are growing little by little. I think that one of the key points is playing shows in foreign countries: since the beginning (2015) we already played in Switzerland, Austria, France, Germany, Belgium, the Netherlands and Czech Republic. Next year we'll probably go "up north" playing in Denmark, Sweden and Norway for the first time.
Even if every show is different, we always had a very good reaction from local people who came to the club for our shows. We always sell a lot of merchandise too (if you guys would like to know something more about it…
Please check our website https://www.fivewaystonowhere.com/merch an that's actually a very good sign.
On top of that, there are all social networks: we're pretty active on Facebook https://www.facebook.com/fivewaystonowhere
and on Instagram https://www.instagram.com/fivewaystonowhereband indeed!
But people also discover our music on Spotify
and on YouTube https://www.youtube.com/fivewaystonowhere.
All our shows are always full of energy as we love to play live!
Athenscalling.gr: Let's talk now about the lyrics of your songs, how create them, on what occasions?
Matteo "TEO" Lassandro (Five Ways to Nowhere): All our lyrics are written by our singer Charlotte. She usually got inspired by personal aspects of her life, but she also tries to write her feelings and thoughts about what's happening around.
Athenscalling.gr: And about your music?
Matteo "TEO" Lassandro (Five Ways to Nowhere): I'm usually the guy who starts writing our music. I sit down in my studio, grab my guitar and start playing: as I find something I like, I record some riffs using my preferred DAW (Reaper). Usually, the writing process is the same: I record the main riff, the verse and the chorus, then I start programming drums and I add a basic bass line. At this point, Charlotte writes some lyrics and melodies and we record them.Then, after sending this demo to the other guys, we'll work together on all arrangements in our studio.
Athenscalling.gr: Your band is full of energy. Really what do you prefer better… The band on studio or the band on stage?
Matteo "TEO" Lassandro (Five Ways to Nowhere): They're 2 different experiences, but I love them both actually. I also like to headband while recording music in the studio, but nothing can beat the feeling that a live show can give. You know, sitting in a recording studio, working on every little detail, studying and testing new arrangements is something I like a lot, but when we hit the stage…oh man, that's probably THE reason why I love being part of this band. Interaction with the others, the sweat, the people's reactions while throwing the horns…it's so damn cool!
Athenscalling.gr: Now please characterize with one word, the 5 members of the band… Charlotte Esse, Joey Tassello, Davide "DAVY" Rocco, Fabio Brunetti and … Matteo "TEO" Lassandro , with one word!
Matteo "TEO" Lassandro (Five Ways to Nowhere):Charlotte Esse: BITTERSWEET
Joey Tassello: PROBLEM-CHILD, Davide "DAVY" Rocco: SOLID,Fabio Brunetti: ECLEPTIC
Matteo "TEO" Lassandro: HISTRIONIC.
Athenscalling.gr: And now a double question about you! Do you remember? Your first teacher in music and Your first album in your bag?
Matteo "TEO" Lassandro (Five Ways to Nowhere): Of course I do remember! My first teacher is music was called Annamaria: I started learning music at school when I was 10, but I got some basics only and, as all students back then, I played flute! At 14 years, I started taking the first guitar lessons: my teacher Enrico was very talented, so it was easy to learn fast. I remember that I played my first guitar for soooo many hours every day!The first album that I bought myself was "Dr. Feelgood" from Motley Crue: I got it in a music shop in Torino in 1990 right after my schoolmate Giuliano let me listen to it using his "walkman" (a portable stereo cassette player), but the first album I got as a gift was "Appetite for Destruction" from Guns N Roses.
Athenscalling.gr: BITE HARD is the new album of the band with a fantastic picture and 10 amazing songs, any news for the future? I mean a new album?
Matteo "TEO" Lassandro (Five Ways to Nowhere): Thanks for your comments about "Bite Hard"! We really do appreciate.We are planning a new release next year: we already got some new songs that we play live sometimes plus a lot of ideas and demos we are currently working on.We're not sure if we'll release another full length or an EP or several singles: we'll discuss later with the label. So… "stay tuned for more Rock N Roll""
Athenscalling.gr: And about the shows … any plans for a concert in Greece?
Matteo "TEO" Lassandro (Five Ways to Nowhere): We'd love to play in Greece! We do love your beautiful country, so it would amaze. We don't have any booking agency. I'm the guy who books our shows (yes, it's a VERY stressful and hard job, but "someone has to do it"). So, if among your readers there's a local promoter, a club owner, a festival organizer or if one of your readers know some of these people, let them know that we're in.
Athenscalling.gr:My last question is about Giorgia Melon!What is your opinion?
Matteo "TEO" Lassandro (Five Ways to Nowhere): Well…I don't agree with her political ideas, but she's just been elected, so…I'll wait and see what happens.I can admit that I'm happy that, even in Italy, we finally have a lady as Prime Minister for the first time since 1946.
Athenscalling.gr: Thank you TEO, all the best for Five Ways to Nowhere!
Matteo "TEO" Lassandro (Five Ways to Nowhere): Thank you for this interview! All the best to you too and keep on following us to get your daily dose of Rock N Roll!!!